National Lifeguard (NL) (16 +)
Course Requirements: 16 years old AND completion of Bronze Cross and Standard First Aid
Course Requirements:16 years old AND completion of Bronze Cross and Standard First Aid
National Lifeguard
Lifeguarding is an exciting and rewarding job that carries great responsibility. Guards take courses and train hard for events they hope will never happen and which they work hard to prevent.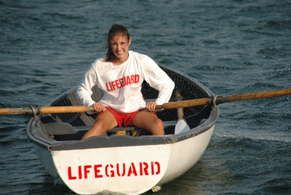 National Lifeguards guards are always in training to keep their skills, knowledge and fitness sharp. They are required to keep other important certifications such as CPR and first aid up-to-date. Some are trained in advanced treatments like using oxygen or in the use of specialized equipment like defibrillators and personal watercraft.
National Lifeguard is Canada's only nationally recognized lifeguard certification program. National Lifeguard is a legal certificate for lifeguarding throughout the country. It is the only lifeguard certificate recognized by the province of Ontario for lifeguarding public swimming pools.
National Lifeguard certification is available in four options: Pool, Waterpark, Waterfront, and Surf. The National Lifeguard Award Guide provides complete details for National Lifeguard Instructors and candidates.
Prerequisites: Minimum 16 years of age. Bronze Cross certification and Standard First Aidcertification (need not be current) from one of: Lifesaving Society, St. John Ambulance, Canadian Red Cross, Canadian Ski Patrol.
National Lifeguard Pool certification is a prerequisite for the Waterpark Option.
Evaluation & certification: Current National Lifeguard Instructors evaluate some items, but only National Lifeguard Examiners may certifiy candidates. The Lifesaving Society deems its certifications to be "current" for 24 months from the certification date.
Candidate recognition: Certification card.
Required reference material: Alert: Lifeguarding in Action.
National Lifeguard Recertification: National Lifeguard certification is current for 2 years and is recertified by completing a National Lifeguard recertification exam. The recertification may require 6 - 8 hr. depending on the number of candidates. Check Find a Course for facilities offering National Lifeguard recertification in your area.
The National Lifeguard recertification exam is your opportunity to demonstrate your skills and recertify your award. You are responsible for reviewing the required content and skills and preparing yourself for the exam. Your exam is based on the National Lifeguard Award curriculum. The required content for this curriculum can be found in your Alert text and the Canadian Lifesaving Manual. Candidates should bring Alert, a whistle, barrier devices (gloves and pocket mask) and proof of prerequisite (previous National Lifeguard).
No questions yet. Be the first to ask the question!
What is the Progam Cancellation Policy?
Unless otherwise specified by a program director or within any other documentation, the following cancellation policy and JCC Credit timetable applies to all Schwartz/Reisman Centre programs:
For Programs that Meet Fewer Than 3 Times
Due to the costs and booking commitments associated with short-term programs, we regret that we cannot offer any JCC Credit for programs, classes, or events that meet fewer than three times per programming season. Additionally, The Schwartz/Reisman Centre cannot be responsible for providing make-ups or issuing any credit for programs missed as a result of personal scheduling conflicts, illness, emergencies, or other circumstances beyond our control. If you are unable to attend a program in this category, we encourage you to consider your registration fee a form of support for the Schwartz/Reisman Centre, helping to sustain wonderful programs.
For Programs that Meet 3+ Times
You may receive JCC Credit for withdrawal from a program when your cancellation request conforms to the timetable outlined below. Please note there is a $15 processing fee for all transfers and cancellations.
- Full JCC Credit will be granted for withdrawal from a Schwartz/Reisman Centre program when a written request is received at least one week before the date of the first class.
- 50% JCC Credit will be granted for withdrawal from a JCC program when a written request is received before the second class.
- After the second class, JCC Credit cannot be granted. (However, you may transfer from one class to another of equal or lesser value if there is space available and with the program director's approval.)
- All cancellation requests must be submitted in writing to: The Schwartz Reisman Centre 9600 Bathurst Street, Vaughan Ontario, L6A 3Z8, Attn: Registration; or by e-mail to [email protected] Please allow three to four weeks for processing of your cancellation request.
*All JCC programs and events are subject to change or cancellation. However, in the event that the JCC must cancel its own program, refunds will be issued. The policy articulated here applies to The Schwartz Reisman Centre only, and does not apply to Centre Camp, The Schwartz Reisman Centre daycare and preschool or The Schwartz Reisman Centre Fitness and Health.
What is required to receive the Member Discount on Programs?
In order to receive the member discount on programs, the Schwartz/Reisman Centre requires that participants be active members at the time of registration and throughout the duration of the registered program(s).
Please be advised that the Schwartz/Reisman Centre operates on a JCC Credit only policy and does not issue any refunds unless otherwise advised and approved by a program director.
JCC Credit applied to your JCC account can be redeemed for any program at the JCC (not including Centre Camp and Schwartz/Reisman Centre daycare and preschool), can be used by any family member on your account, and carries no expiration date.
When does Program Registration close?
Registration for Schwartz/Reisman Centre programs closes one week before the start date of a course. For some classes we accept registrations until the program has reached 50% of its classes.
We recommend registering as early as possible, as many programs have limited space, and other programs depend upon a certain enrollment number to ensure they will run. Your place in a program can only be guaranteed when accompanied by payment.